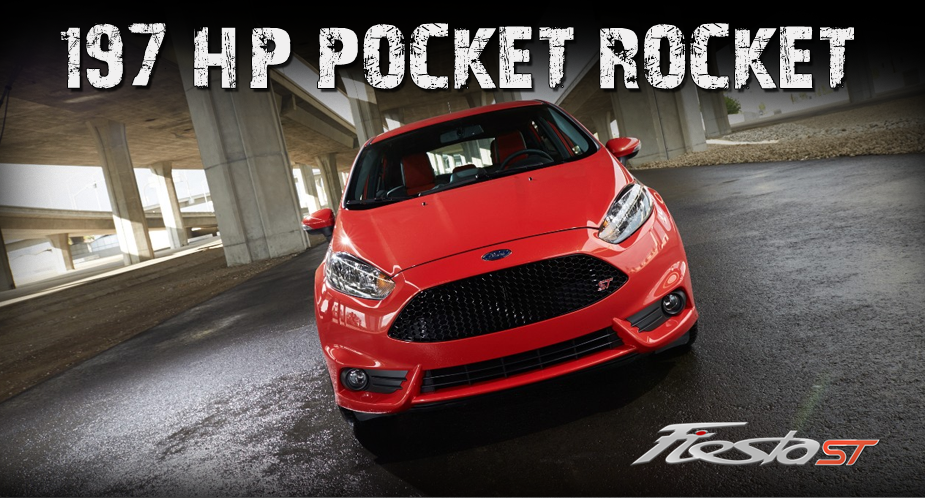 Fiesta ST, a performance model first launched in Europe back in 2005, is yet another proof point from Ford that small cars are anything but boring. In addition to a precision sport-tuned suspension and improved braking system, Fiesta ST packs a punch under the hood.
A new high-output variant of the award-winning 1.6-liter EcoBoost® four-cylinder engine propels Fiesta ST with an estimated 197 horsepower and 202 lb.-ft. of torque. In comparison, Mini Cooper S makes do with 181 horsepower and 177 lb.-ft., while Chevrolet Sonic RS produces just 138 horsepower and 148 lb.-ft.
Unlike the competition, Fiesta ST doesn't simply look like a performance car; it's got the guts to back it up.
Fiesta ST may be born with racing DNA, but buyers won't have to pay for that performance at the pump. Available exclusively as a five-door hatchback in North America and with a six-speed manual transmission, Fiesta ST is projected to achieve up to 26 mpg city, 35 mpg highway and 29 mpg combined. Read More…
Ford Fiesta News Articles
For this year's 2013 SEMA Show, Ford featured six Ford Fiesta and Ford Fiesta ST projects which highlights the Fiesta's great capabilities. Read More…
Ford's new Fiesta redefines the small car with a projected 40 mpg-plus fuel economy rating with the available 1.0-liter EcoBoost® engine, an exciting new look, and special features and technology that make it the most fun-to-drive car of its size. Read More…
Ford's 1.0-liter EcoBoost® engine found in the Ford Fiesta has garnered a prestigious 2014 Ward's 10 Best Engines Award, adding to the growing quiver of accolades for the impressively powerful and remarkably fuel-efficient powerplant. Read More…