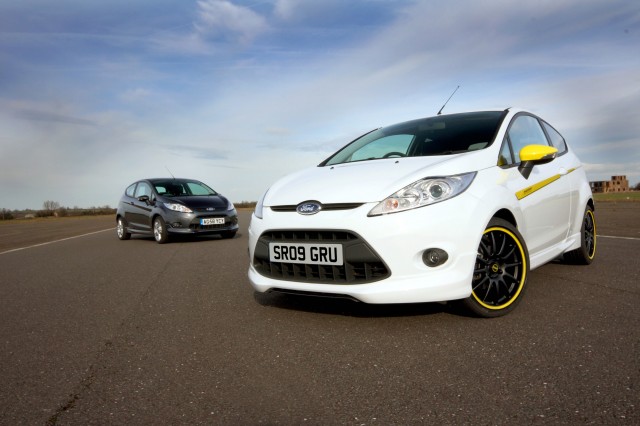 Ford won't build a new Fiesta ST. Not for a long while, anyhow. This is a pity – the sixth-gen Fiesta has a sweet chassis and could be a proper laugh with a bit more power than the 118bhp of the top-spec 1.6-litre engine.
Enter, then, Mountune, Ford's official tuning brand known Stateside as Roush. It has put together a performance pack that costs around £1,600 on top of your Fiesta Zetec S (or £14,400 all in). The pack comprises a big new exhaust system and a bunch of ECU tweaks, but it won't invalidate your warranty. It will, however, add 20bhp and cut two seconds off the 0-60mph time, bringing it down to a respectable 7.9 seconds.
Like the previous Mountune Fiesta – which was based on the ST and put out a much more respectable 183bhp – the new car is a noisy little bugger. At low revs, the Mountune coughs and snorts and trumpets at such a volume that you'll seriously consider sticking a big decal across the flank reading, 'IT'S NOT ME, IT'S THE CAR, HONEST'.
That said, the Mountune sounds bloody marvellous when you wind it up past 5,000rpm. Yes, the noise is still as intrusive as a XL suppository, but so howling and sonorous that you'll forgive it.
Trouble is, the Mountune isn't really quick enough to justify all the shouting. Sub-eight seconds to 60mph is respectable yet hardly blistering by today's standards. But the bigger worry is the absolute paucity of low-end torque from the naturally aspirated engine – there's never a proper slug of power, and the Fiesta struggles to pick up pace from low speeds, leaving you lagging at the lights with a chuntering exhaust.
It's frustrating, because the Mountune handles tidily on the standard Fiesta chassis without ever getting close to its limits. A proper hot version – a rival for the soon-to-arrive 200bhp Renaultsport Clio, for example – could unlock a whole lot of potential, but this Mountune is more talk than trousers…
Share